Veneering Cement / Mastic
Thermal Ceramics manufactures a comprehensive line of high temperature insulating fibre-based Mastics. Our Mastics are available as Pumpables, Moldables, Coatings and Cements. Used in both new linings and repairs for online and offline maintenance solutions.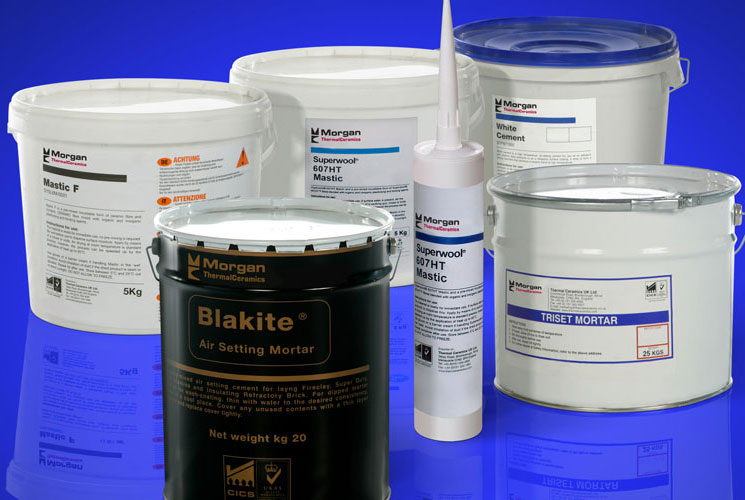 Our extensive range includes both Superwool® and Kaowool® based mastics. We also make Therm O-Hot Patch™, Cera-Preg™, JM 2600™, Cera-Kote™, Unikote™, Super STIC-TITE™, Therm-O-Stix™ and Therm-O-Flake™ brands. With such a wide range of products, we are able to offer materials with the optimum thermal properties, consistency and application method to meet your requirements.
Our Pumpables, Mouldables, Coatings and Cements offer:
Low thermal conductivity and heat storage capacity for effective energy savings
Durability; resistance to thermal shock and erosion
Good workability with low drying and firing shrinkages
Superwool products are also non-wetting to aluminium.
Mastics installation tools such as pumps, caulking tubes and spray nozzles are also available and vary by region.
Our Pumpables, Mouldables, Coatings and Cements are used to enhance or repair thermal insulation in refractory applications including:
Hot or cold repairs of ovens, furnaces and process equipment
Grouting cracks and filling gaps in refractory linings
Pumping into voids behind boiler tubes in sidewalls, seals and floors
Bonding insulating materials to themselves
As a coating for refractory materials to provide additional insulation, strength or protection against chemical attack from alkalis, iron oxide and air/moisture infiltration.
See our product datasheets for more information on our thermal insulation mortars, cements, mastics and coatings or contact us to discuss requirements for your application.
PRODUCT

Grades

Classffication
Temperature (°C)

(1) 1260
(2) 1260

Thickness (mm)

(1) Supplied in sealed plastic
Containers of capacities
20 & 50kgs.
(2) Supplied in sealed plastic
containers of capacities
5 & 25 kgs.

Dimensions (mm)

Density (k9/m3)

Thermal Conductivity (W/mK) (at mean temperature of 600°C depending on density)

(1) Wet-Min 1500
(2) Wet-Min 300
Dry-Min 386

Application Areas (More information is available in product data sheets and application sheets)

(1) Bonding Ceramic Fibre
modules with the existing
refractory linings
(2) Expansion joints packing
& sealing and cuplock
filling.

Note: The product has a
normal shelf life of 6 months
if not exposed to atmosphere