High Temperature Insulation Folded and Stacked Blanket Modules
We offer an exceptionally wide range of high temperature insulating Blanket Folded and Stacked Modules. Our key products, Pyro-Stack™, Pyro-Fold™ and Z-Blokt®, are an effective thermal insulation for specialised applications and offer all the advantages of our standard Blanket products in a pre-compressed modular form.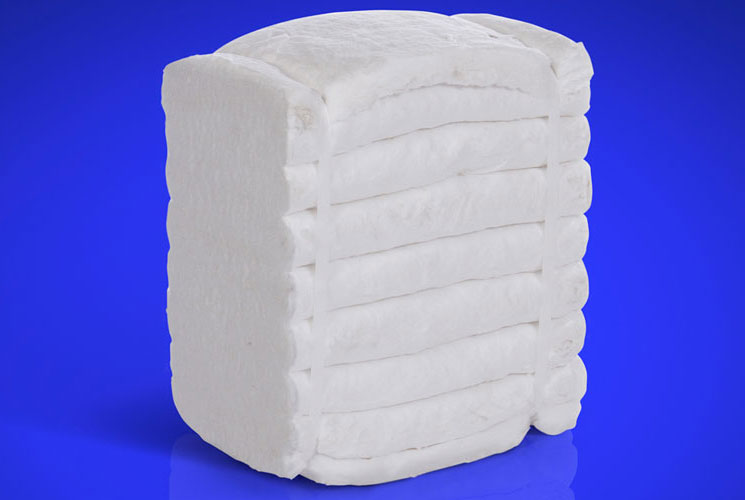 Folded and Stacked Blanket Modules feature non-exposed anchoring, economical installation and a positive mechanical attachment. Our Folded and Stacked Blanket Modules are used to protect equipment, conserve energy, and improve process performance in some of the most demanding high temperature industrial environments in the world.
Our range comprises three fibre grades:
Alkaline Earth Silicate Fibre (AES) blankets made from our unique low bio-persistence Superwool®
Refractory Ceramic Fibre (RCF) blankets made from Cerablanket®, Cerachrome® and Cerachem®
Polycrystalline Fibre (PCW) blankets made from Denka
AES (Superwool®)
Our Superwool® Folded and Stacked Blanket Modules offer exceptional performance-to-weight ratio and are resistant to chemical attack. Superwool® is the only low bio persistence fibre available with a classification temperature of 1300°C (2372°F).
Superwool® fibres are exonerated and are not classified as carcinogenic by IARC or under any national regulations on a global basis. They have no requirements for warning labels under GHS (Globally Harmonised System for the classification and labelling of chemicals). In Europe, Superwool® fibres meet the requirements specified under NOTA Q of European Directive 67/548. All Superwool® fibre products are therefore exempt from the classification and labelling regulation in Europe.
RCF
All our RCF Folded and Stacked Blanket Modules are strong, easily installed, have low thermal conductivity and heat storage capacity for effective energy savings and good thermal shock resistance for use in difficult environments.
Cerablanket®, Cerachrome® and Cerachem® offer excellent chemical stability and strength and have superior acoustic as well as thermal insulation characteristics. These modules are classified to 1427°C (2600°F).
PCW
Our PCW fibres are ideal for high temperature and chemically aggressive applications. These fibres are manufactured by sol-gel technology using processes specifically designed to produce fibres of defined dimensions.
Denka blanket modules are more resistant to acid and alkaline solutions than conventional alumino-silicate fibre blankets and have exceptionally good thermal insulation characteristics. They are classified to 1600°C (2912°F).
Our Pyro-Fold, Pyro-Stack and Z-Blok® blanket modules provide easy to use, efficient thermal lining for all types of high temperature processing equipment such as:
Process heaters
Ceramic kilns
Annealing furnaces
Heat treating furnaces
See our product datasheets for more information or contact us to discuss the requirements for your application.
Oralite are a range of insulating Castables to conserve heat in furnaces. They are light but strong and have low conductivity, serve as either hot face or back up insulating refractory lining. These Castables are produced in density range of 400 to 1600 kg/m3. They are available mainly in two different grades medium purity and high purity. The high purity (Low Iron) variety is suitable for reducing environments.
| | | | | |
| --- | --- | --- | --- | --- |
| Physical Propertires | HP Grade | ZR Grade | CR Grade | Denka |
| | | | | |
| --- | --- | --- | --- | --- |
| Color | White | White | Blue/Green | White |
| Continuous Use Limit, °F (°C) | 2200 (1204) | 2450 (1343) | 2500 (1371) | 2912 (1600) |
| Classification Temperature Rating, °F (°C) | 2400 (1316) | 2600 (1427) | 2600 (1427) | 2912 (1600) |
| Density, pcf (kg/m3 ) | 8, 9.3, 10.7 (128, 149, 171) | 8, 9.3, 10.7 (128, 149, 171) | 9.3, 10.7 (149, 171) | 8, 9.3 (128, 149) |
Chemical Analysis, % weight basis after firing
| | | | | |
| --- | --- | --- | --- | --- |
| Alumina, Al2O3 | 46 | 35 | 43 | 80 |
| Silica, SiO2 | 54 | 50 | 54 | 20 |
| Zirconia, ZrO2 | - | 15 | - | - |
| Chromia, Cr2O3 | - | - | 3 | - |
| Other | trace | trace | Trace | Trace |
Thermal Conductivity, BTU•in./hr•ft2 •°F (W/m•k), ASTM C 201
Measured density, pcf (kg/m3 )
9.3 (149)
Mean temperature @ 500°F (260°C)
0.52 (0.07)
0.74 (0.11)
@ 1000°F (538°C)
1.00 (0.14)
1.31 (0.19)
@ 1500°F (816°C)
1.66 (0.24)
2.36 (0.34)
@ 2000°F (1093°C)
2.45 (0.35)
3.66 (0.53)
@ 2500°F (1371°C)
-
5.05 (0.73)
@ 2700°F (1482°C)
-
5.61 (0.81)
Standard Size Availability
| | |
| --- | --- |
| Thickness, in (mm) | 4 – 12 (102 - 305) |
| Length x Width, in (mm) | 12 x 12 (305 x 305) |